On 15th of September, 2018, the entire nation was in grief as a young Pilot of Indian Air Force lost his life in Kolkata. The 23-year old Flying Officer Kartik Thakur was getting trained in Kolkata just 3 months after he was commissioned from AFA Academy. The concerned authority has informed that Pilot Kartik died of drowning but as the officers are commissioned after extreme training, including swimming, it's really confusing how Kartik died. The parents of Kartik are requesting the government for investigation and find the actual cause of death.
About Flying Officer Kartik Thakur:
Flying Officer Kartik Thakur hails from Lahla village in Lad-Badhol Tehsil of Mandi district, Himachal Pradesh. He completed his schooling from Sainik School and was since then dreamt of becoming a flying officer. He appeared for Combined Defence Services in 2015 and was finally recommended to join Indian Air Force as Pilot.
About Flying Officer Kartik Thakur Family:
Kartik Thakur was born to Mr. Parvinder Thakur who is a sub-inspector in BSF (Border Security Force) and Lata Thakur who is a housewife. Kartik is survived by his Father, Mother and his younger sister Kritika who underwent Himachal Institute of Dental Service.
About Flying Officer Kartik Thakur Tragedy:
The exact cause of death is not yet proved, but it is speculated that Kartik was died of drowning when he was undergoing training in Kolkata. Pilot Kartik Thakur was currently posted in Hyderabad, but he went to Kolai Kanda near Kharagpur, Kolkata for training. The resources speculated that on 15th of September, Kartik drowned in the swimming pool at Kolai Kanda that caused a head injury, resulting in his unexpected death.
Facts about Flying Officer Kartik Thakur:
Kartik was born on 21st of March 1994 in Himachal Pradesh.
He joined Sainik School Sujanpur, Tihra and studied there till the completion of his 12th standard.
After he passed out of Sainik School, he took admission in Rajdhani College, Delhi University where he completed his graduation.
During the graduation period, he applied for CDS 2 2015 and was successfully cleared the written Exam. He was called for the AFSB Varanasi for SSB Interview.
He underwent SSB interview in 4 AFSB Varanasi Cantt. He was interviewed under the batch number V-AFCAT (M)/245 and was given chest number 42.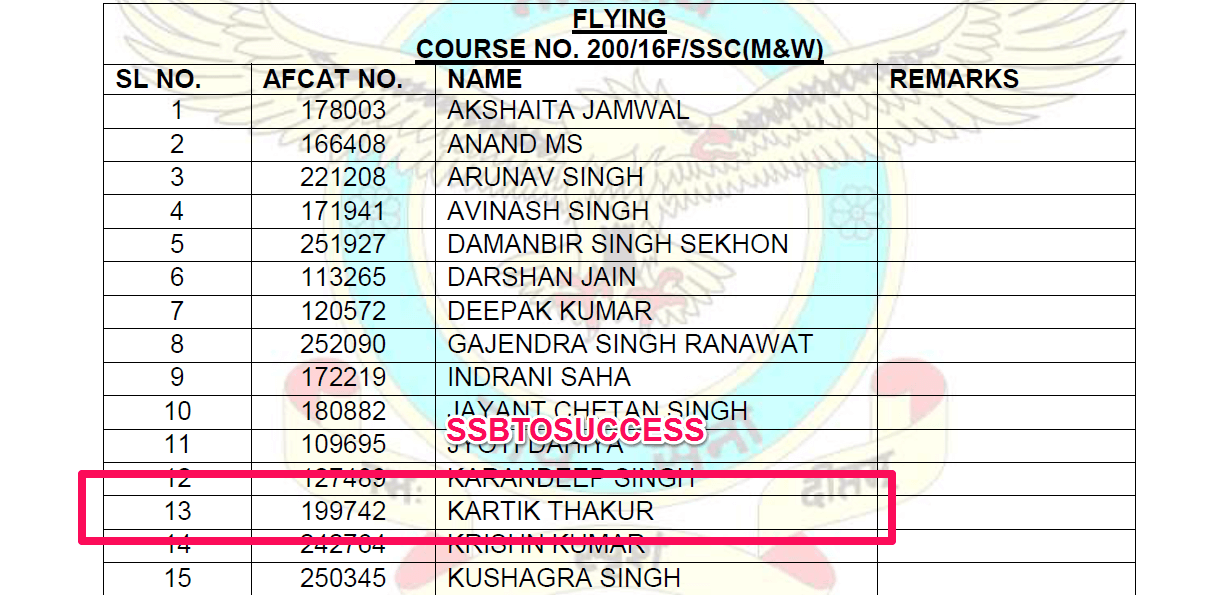 He cleared the SSB and was ready to join the Indian Air Force as a Pilot. He was enlisted in the CDS 2 2015 Final Merit list for Course No. 200/16F/SSC (M&W).
In the Final Merit List, he was ranked 13th.
During his entire selection tenure, his AFCAT No was 199742.
He joined Air Force Academy, Dundigal and continued his training for Fighter Pilot.
After completing his AFA training, he was commissioned in the Indian Air Force as Flying Officer Kartik Thakur and was given his first posting in Hyderabad.
Kartik Thakur was featured in the Discovery Channels' Breaking Point: Indian Air Force Academy where the life of a Flying Pilot cadet was depicted and Kartik was taken as the lead character in that series.
Watch Flying Officer Kartik Thakur Video [Tribute]: